Hello there. This morning I woke up feeling less motivated than normal for a Sunday morning. As you'll read, a really busy week is probably why. Mind and body need the rest. I'm the owl (above photo) sleeping away in the corner.
My wife and I have two more really busy weeks before our respective events occur (which themselves, will be busy times). We're smart this time, already having planned a vacation for when we get past all of this.
Hang in there, and have a great week!
---
[one] nike's slogan is the answer
There are so many things that I want to do… I have no idea what I'm waiting for.
"The best time to plant a tree was 20 years ago. The second best time is now."

~ Chinese proverb
[two] happy korean american day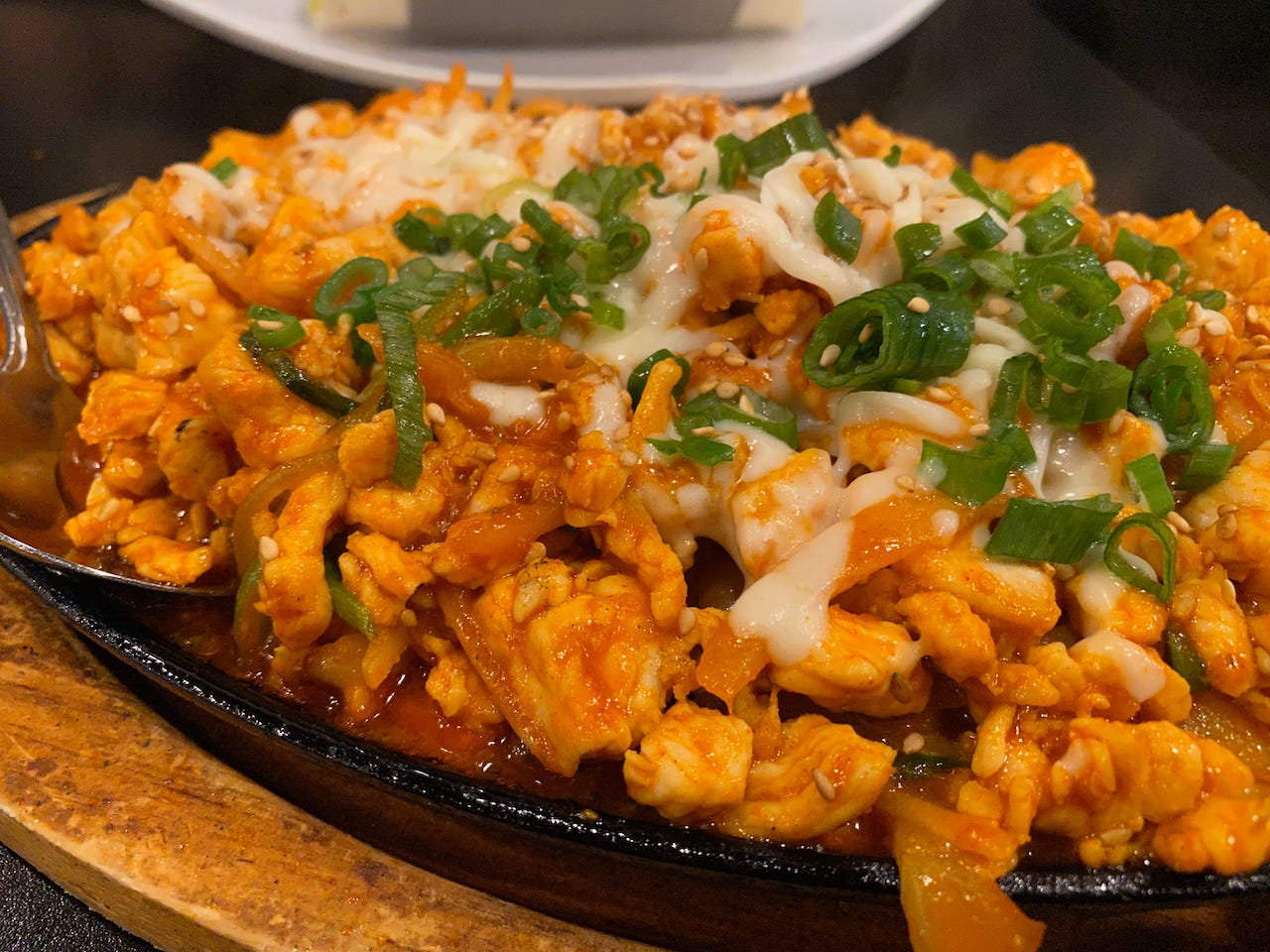 This week I learned that there is a Korean American Day. It's every January 13th and it "commemorates the arrival of the first Korean immigrants to the United States in 1903. The day also honors the Korean American's immense contributions to every aspect of society."
We "celebrated" by going out to Bonchon for a Korean fusion dinner, where I had Bul Dak, which is spicy chicken and rice cake with some cheese on top. While it was good, it reminded me of the time a group of us went to Chuncheon, a small city in Korea famous for its dakgalbi. The two dishes are similar but the taste (and of course, the experience) is different. That dakgalbi meal, in Chuncheon, was spicy and smoky and just too dang good. Just another reminder that I want to take another trip back (to Korea) soon.
[three] the key is having fresh veggies to begin with
I have come to appreciate the simplicity of prepping and eating a crudités platter for dinner. Like, that's the whole dinner. And it's good, and filling, and satisfying. Who am I anymore?
[four] working on monday is not allowed, please acknowledge verbally
This week was a busy one. So much so that my boss had to remind me that Monday was a holiday and explicitly told us not to work. She even waited for our verbal acknowledgement, which was funny because the exchange reminded me of when you sit in the exit row on an airplane, and the flight attendant needs your verbal agreement that you are ready to aid in the event of an emergency. This next week will be just as busy as we're in "games mode", with most of us traveling the following week to be onsite. There's still much to do but, we're actually in a better place (operations-wise) than we have been in the recent past so, that's good.
It's a strange juxtaposition because work has been focused on implementation and operations planning, coordination, and execution while my school work has been focused on system analysis and heavy in writing and UML diagram creation. It feels like I'm working two distinct jobs and my head has been spinning trying to get through it all.
I got really frustrated with myself because I wasn't able to finish my assignments, for school, before the weekend. Even though they're not due until the end of day, Sunday, I like completing them by Friday so they're not hanging over my head all weekend, nor making me sit at a computer on a Saturday and/or Sunday.
But then I realized how hard on myself I was being. Work was really busy (we're ramping up for a major games). I hadn't missed any deadlines. It's this kind of self-imposed stress that I really need to stop. More often than not, it ends up the equivalent of deer in headlights, where I can't seem to move in any direction and I wait for something to hit me.
That's not the way to live, let alone spend my weekends.
[five] what's the worse that can happen with me talking to a camera?
I'm going to start vlogging. I'm intrigued with using another outlet (in addition to still photography and written word) to document my life. I'm still working out how I want to do this, and whether I'll post the videos publicly or not but, it's coming soon.
---
Recently Read
Tedium: 3DS, In Retrospect - This reminded me that I never finished Metroid: Samus Returns. I might have to do that soon.
Photographers capture pictures of rare coastal wolf - these wolves are beautiful.
Famed Landscape Photographer Eliot Porter Loved Birds - The gallery that accompanies this article is gorgeous. Especially frame #7.
Recently Watched
Fresh Off the Boat, s6, e10 - What happened to Emery?!? He's growing up so his character wasn't quite the same in this episode.
Star Trek: Deep Space Nine - Currently at s2 e18. A lot of the stories are deeper (more layered) and darker than episodes from the Original Series and The Next Generation, which I've read is part of the controversy around this series. I appreciate the issues they're addressing, many of them still very relevant today. Like Worf in The Next Generation, I'm relating to Odo the most so far in this series. Seeing the trend? Both were adoptees, both not easy personalities to get along with, both cynical and often times too serious…
Recently Listened
This week's rotation included Rush, Sharon Van Etten, and David Bowie.
"Ding Dong Scrambled Eggs", by Cataldo - Reminds me of songs in the spirit of The Mountain Goats.
[Podcast] 10 Things That Scare Me: Ike - I'm glad they're back with new episodes. This is one of my favorite podcasts. Ike's episode was a good reminder that kids have a lot more going on in their heads than most people (including me) give them credit for.
[Podcast] Every Little Thing: Caveman Confidential - We've even stereotyped our ancestors.
Recently Posted (on the blog)
---
Thank you for taking the time to read. I appreciate feedback, suggestions, and any other conversation you want to have. Just reply to this email!
If you know anyone who might enjoy this newsletter please feel free to share.
If you received this as a forward, and like what you read, please consider subscribing.
---
You want more? Ok… Are you sure? Ok… My website is swtlo.com. A lot of my photos are on Flickr, and you can find me on Twitter and Instagram as @ptrcktlln.