Hello! The above photo is from last weekend's hike at Calaveras Big Trees State Park. I like how the morning light was hitting the young trees, and it got me thinking about how these trees will grow and prosper despite competing with all of the "adult" trees surrounding them, many of which are full grown and whose canopies block the majority of the light from reaching the new growth. I'm sure this is a metaphor for something; just let me keep overthinking it for a little while longer.
I got through another week because, like the trees, life finds a way. Right, Dr. Ian Malcolm? Have a great week!
---
[one] we interrupt this introvert weekend to bring you art, culture, and disappointing fish and chips
This weekend was easy-going, spent mostly at home recharging and taking care of some pesky to-dos that had been lingering for a while. Today, we did manage to sneak out, visiting the Crocker Museum and getting lunch in Old Town. I'm grateful for the time we were out; it's such a beautiful day and there weren't a lot of people at either place, so it was nice and mellow.
The museum was a nice change of pace. We wandered through a few of the halls looking at a mix of paintings, ceramics, and sculptures. It's definitely a place to go back to view in sections. Trying to take it all in one day would be too much, and too hurried. I especially liked seeing a group tour of deaf people, and watching how the tour guide was so inclusive and took her time to make sure that all of the participants could ask questions.
We shared a fish, shrimp, and chips plate from Railroad Fish and Chips. The first time we ate there (almost a full year ago) it was wonderful, everything freshly fried and tasting very good. It was rainy and a little chilly, and we had spent the morning wandering around so we were hungry. Today, it all tasted… off. The food wasn't horrible, but it did taste a little stale and you could tell that the fry oil was on the cusp of needing to be changed. It's disappointing, especially since that first experience was so good.
[two] i still should have brought my wide angle lens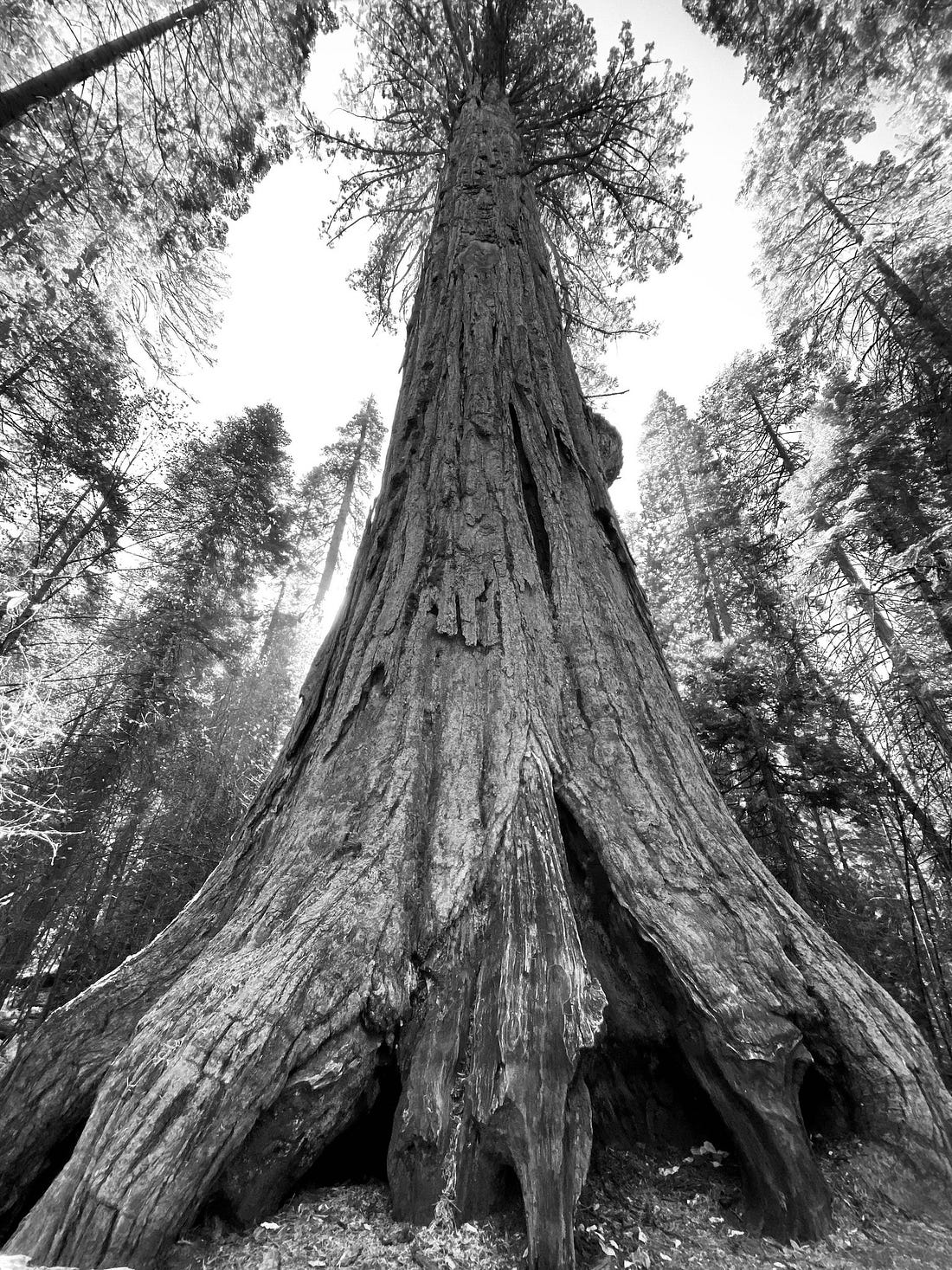 I was one of those "why would I want an ultra-wide angle camera on my phone" people. That is, until I went for a hike and didn't bring a wide angle lens for my camera, then remembered that my fancy smartphone might help. So much for keeping the phone in my bag while I'm experiencing nature.
[three] found a trustworthy mechanic so, now we're never moving
It's a great feeling, finding an auto mechanic that you not only feel comfortable (trust) going to but, that you actually like. With as many times as we have moved, it's difficult to establish "go tos" for various services. I took one of the cars in for service and asked them to check out a few other things. They went above and beyond not only fixing them, but looking at and fixing other possibly related issues without charge. This was the 4th visit to them. The first visit was awesome, and each time since was an increasingly better experience.
I was one of many dropping their car off on a Friday morning. Being in no rush, I told them so, not expecting to pickup until mid to late afternoon. So, I walked ~2 miles to a shopping center and hung out in a Panera and then wandered through a Barnes and Noble. Just as I was considering taking a Lyft to downtown, they called to let me know the car was ready and told me about the other things that they had found and fixed (no additional charge). And even though they were minor maintenance things, they didn't have to go above and beyond. On the walk back I couldn't help but feel happy and grateful for having found them, and started to plan when I would take our other car in for service.
[four] the stress is coming from within the house
At the beginning of the week, I somehow got too deep in my own head (self-doubt) and setup camp. The good part is that once I recognized what I was doing, it stopped getting worse. Holding steady for the remainder of the week was, as far as I'm concerned, a win. On the whole, it really wasn't bad; I cooked healthy meals, got in some exercise, lost a little weight, met all of my work and school deadlines… It's just weird to feel like, despite doing that, somehow I failed? That I wasn't as productive as I should have been? That I'm underachieving?
This is all to say that I'm learning, as I'm paying more attention, that the source of the majority of my stress is internal and self-imposed.
[five] i still refuse to become a software developer
It's strange for me to say this but, I have a new "favorite" code editor. On a recommendation form a classmate, I switched from Sublime Text to Visual Studio Code and was very pleasantly surprised at how much more I like it. Even stranger is that I'm actually having fun working with Python. It's a much easier language than others I have experienced and, for some reason, it's "clicking" with me a lot quicker. So much that I even put together a few scripts just to play around.
---
Recently Read
Blue Moon, A Jack Reacher Novel, by Lee Child - I read this book much like one watches a long-running crime procedural on network TV. You know, the ones that you have watched for years and keep watching, despite their predictability, partly because you like/are familiar with the characters, and partly out of habit. The line between entertainment and habit (due to familiarity) is severely blurred. Yeah... this is how I've felt after the last few novels in this series so, perhaps it's time to hang it up.
Monstress Vol. 4, by Marjorie Liu, Sana Takeda - This is one of my favorite graphic series. The combination of story and art works; I love the artistic style, itself adding to the story, not just supplementing it.
"In Hong Kong, the protests have exposed bitter divisions — even among friends and families" - Another excellent piece of photojournalism from California Sunday.
"Why I'm Wrong About Everything (and So Are You)" by Mark Manson - I think we all know this to be true in our heads but, it's a good reminder to read something like this every now and then.
Relationship Lessons from Trees, by Maria Popova - I appreciated this post and its literary sources. They resonated with me, especially with our recent hikes through sequoias and redwoods.
[Newsletter] Black Box, by Christine Lee - It makes me so happy to see Christine has a newsletter. Please subscribe and enjoy!
Recently Watched
I lost track of how many Python (and general coding) tutorials I watched on Youtube. Some were extremely boring but educational. So, exactly like you imagine coding videos on Youtube to be.
Star Trek: The Next Generation - We're up to season 5, episode 24. I appreciate the series' ability to go from serious to light-hearted and back to serious from episode to episode. I'm also enjoying the guest starts that popup, seeing a young Ashley Judd, Famke Janssen, and many more.
The Office "Dinner Party" - A classic episode, one of my favorites for how well it was put together and carried by the acting. The tension build between characters Michael and Jan, and how increasingly uncomfortable it makes the other characters (and the viewers)… I relate to it because (a long time ago) I witnessed something similar when attending a housewarming party for a coworker, and watched as he and his girlfriend escalated into a full-blown screaming match. And they called each other "Babe" the whole evening, just like Michael and Jan.
Recently Listened
This week's rotation included Peggy Gou, Fin.K.L., GOWE, and The Fat Boys.
[Podcast] Dolly Parton's America, "Dollitics" - Fascinating. I admire, very much, her ability to accept and forgive.
[Podcast] The Moth: Around The World - "Judge less, and help more". Kwong Yue Yang's story about a helpful stranger. Note: his is the second story in the episode.
---
Post notes
I had something else written for topic [two] but changed it right before sending out the newsletter. It was more personal than I was willing to share, at least for now. A common request I get (for this newsletter) is to share more photos so, I opted to do that instead.
I'm keeping up with Screen / Life Balance's "30 Days of Gratitude" posts on my blog.